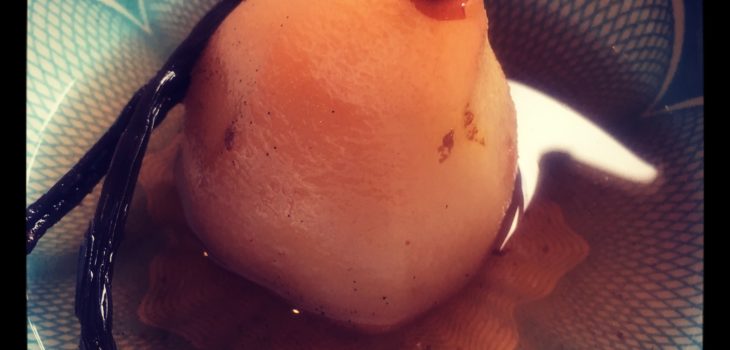 Serves 6
A dessert you can make ahead of time is a winner when entertaining. These pears are poached in a simple sugar syrup flavoured with vanilla and cinnamon. By all means add some other aromats; try star anise, lemon or orange peel.
The length of time they poach for will depend upon their ripeness. Mine were just ripe and took 30 minutes. But they will take less time if they are more ripe (and vice versa).
You could also go biblical and exchange the water for wine; in either case make sure you reduce the syrup by half once you have removed the cooked pears.
Ingredients:
300g caster sugar
1L water
1 vanilla pod (split lengthways and scrape out the seeds, then use both the seeds and the pod)
1 large cinnamon stick
6 Pears
Step 1: Put the sugar, water, vanilla and cinnamon in a large saucepan.
Step 2: Carefully peel your pears, leaving the stalk intact, and then slice the bottom of the pear off so that they can stand up.
Step 3: Place the pan over a medium-high heat, and once the sugar has dissolved use the stalks to carefully put each pear into the liquid. Bring to a simmer and either place a lid on the pan, or use a piece of baking parchment pressed into the surface of the liquid.
Step 4: Simmer until tender (check them after 20-30 minutes, but it will depend on the ripeness of the pear).
Step 5: Remove the pears from the spiced sugar syrup. Keep the lid or paper off the pan and reduce the syrup by half by which time it should by slightly thicker and nice and sticky.
These can be made a day or two ahead of time. Store the pears in their syrup in an airtight container in the fridge. They can be eaten hot or cold. Serve on their own or with ice cream.