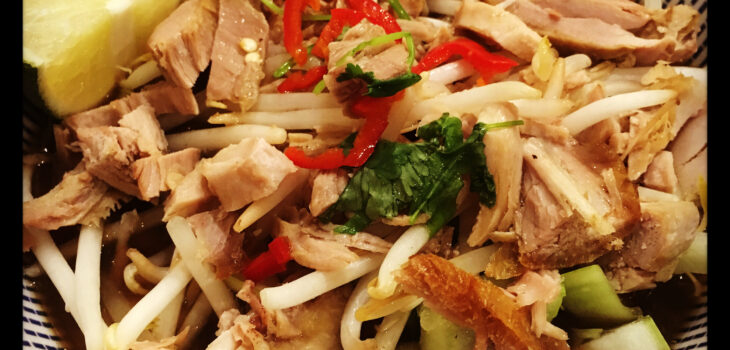 Serves 2
Here's a little something different to try with your leftovers this Christmas. Utilising your leftover meat and stock, you can create a light but filling Vietnamese soup.
Ingredients for the broth:
1 L turkey stock
25g sugar (I used coconut sugar)
10 star anise
1 black cardamom 
2 large pieces of cinnamon or cassia bark
1 tsp fennel seeds
1 tsp coriander seeds
1 tsp black peppercorns 
4 cloves
1 tsp salt
2 tbsp fish sauce
For the bowls:

100g pho noodles (I used flat rice noodles) cooked (by soaking in boiled water for a few minutes)
2 handfuls of beansprouts
1 pak choi, shredded into 1/2 cm pieces
1 red chilli, finely sliced
2 spring onions, finely sliced
2 small handfuls of cooked turkey meat, shredded/roughly chopped (I used the dark meat)
Coriander and basil, roughly chopped
1/2 lime
Step 1: Place all the ingredients for the broth (except the fish sauce) in a lidded sauce pan and simmer for 1 1/2 hours. (You can either put all the aromats in a muslin or be prepared to sieve these out at the end).
Step 2: Add the fish sauce and check seasoning. Add ground pepper and sugar as required.
Step 3: In each serving bowl place the cooked noodles followed by the spring onion, chilli, bean sprouts, pak choi, turkey and herbs.
Step 4: When ready to serve either remove the muslin, or sieve out the aromats before ladling the broth over everything in the bowls. Serve with a wedge of lime.