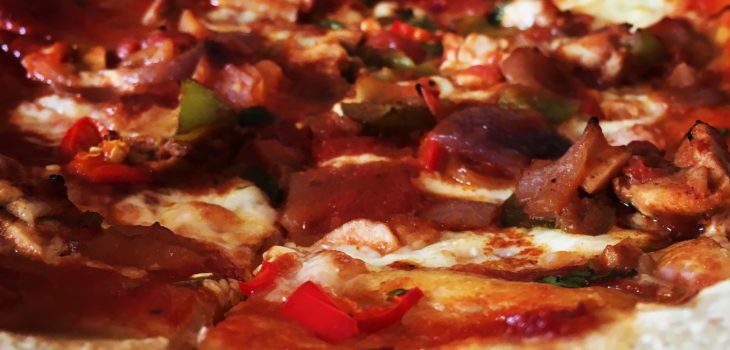 Makes 8 medium pizzas (dough and sauce)
I've written before that pizza is my husband's favourite. I am much more likely to agree to have it for dinner if it is homemade. I find it easier to make a big batch of dough, divide it up in to portions and freeze the spares, along with the portions of pizza sauce, and then it becomes a quick meal to throw together, perfect for a Friday night! I simply get the dough and sauce out of the freezer in the morning to defrost. Both the dough and sauce are dairy free, vegan and vegetarian.
For the dough:
800g strong white bread flour
200g strong wholemeal bread flour
14g fast action yeast
1 tbsp caster sugar
4 tbsp olive oil
1 tsp salt
650ml lukewarm water
For the pizza sauce:
2 tbsp olive oil
1 onion, finely diced
2 cloves of garlic, finely diced
1/2 tsp chilli flakes
1/2 tsp dried oregano
500g passata
1 dsp caster sugar
1 dsp balsamic vinegar
Salt and pepper
Step 1: Make the dough by mixing the yeast, sugar and oil in the water and setting it aside for a couple of minutes to activate the yeast (it will begin to froth).
Step 2: In a large bowl combine the flours and the salt, make a well in the centre and then add the liquid ingredients. Using either a wooden spoon or an electric mixer, combine the ingredients and mix until they have formed a ball, then knead until you have a soft dough (I did all of this in my electric mixer using the dough hook).
Step 3: Leave the dough to rise in the bowl, covered with cling film or a damp tea towel, until it has doubled in size. This will take up to an hour.
Step 4: Knock back the dough by kneading it on a floured surface.
Step 5: Divide in to portions (this recipe makes eight medium-sized pizzas) and either use immediately, or wrap in clingfilm and keep in the fridge or freezer until needed.
Step 6: Make the pizza sauce; on a medium heat, soften the onion in the oil for five-10 minutes and then add the garlic and soften for a further two minutes.
Step 7: Stir in the chilli and oregano, then add the passatta, sugar and balsamic vinegar and cook for 10-15 minutes on a medium-low heat. Season to taste. Allow to cool.
Step 8: When you are ready to assemble the pizza, roll the portion of dough out on a floured surface and place either on a preheated pizza stone or on a greased baking sheet (I also sprinkle the baking sheet with a little semolina). Spread an 1/8 of the pizza sauce over the surface (leaving a 1 cm border) and any additional toppings and cook at 220c for approximately 12 minutes.
I find that half a ball of mozzarella is enough per pizza (my husband would disagree!) and one of our favourite toppings is jalapeños (from a jar), some slices of salami and some halved cherry tomatoes. Once out of the oven I top it with freshly torn basil leaves.
Another suggestion, which we had tonight and really enjoyed, was mixing a table spoon of mango chutney in to the pizza sauce before spreading it on the base, then using some left over chicken curry (!) as a topping along with some sliced fresh red chilli. And mozzarella. Don't judge us, just try it! It was lush!