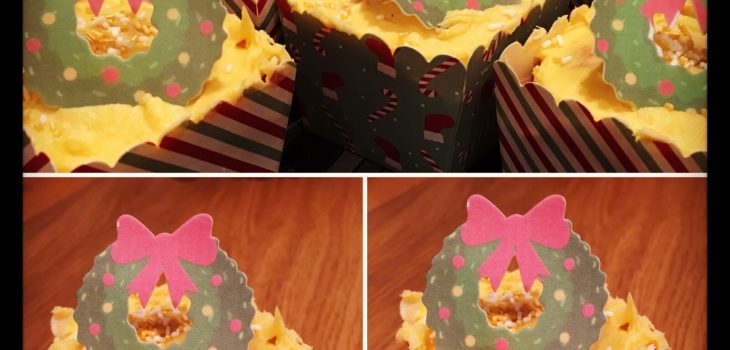 Makes 12
This weekend I've been experimenting in the kitchen, and here is my creation; cupcakes, studded with spiced fruit and topped with a vanilla custard buttercream. A reimagining of the classic mince pie and custard.
Perhaps you have a jar of leftover mincemeat that you've been wondering what to do with, or perhaps you'll pick up a jar reduced after Christmas. Either way this is something a little different to do with it.
The quantity of buttercream allows for a thin layer to be spread over each cake. Alternatively you could pipe a decorative splodge (technical term) on the top of each one. But if you want to have a full, piped covering you will need to double the quantities.
We will be enjoying these when family come to visit over Christmas, so hopefully they will go down well with their festive twist. Merry Christmas!
For the cakes:
115g softened butter or margarine
125g caster sugar
2 large free range eggs
125ml milk
225g self-raising flour
Pinch of salt
300g mincemeat (homemade or shop-bought)
For the buttercream:
125g icing sugar, sifted
4 heaped tsp custard powder, sifted
125g softened butter
1 tsp vanilla extract
Step 1: Cream the butter and sugar then slowly add the eggs and milk as you continue to beat them together. As you beat the mixture, add the flour a spoonful at a time until you have a smooth batter, and finish with a pinch of salt.
Step 2: Fold through the mince meat.
Step 3: Divide the mixture between 12 large cupcake cases set on a baking tray and bake in a preheated oven at 180c (fan) for 20-22 minutes until golden and risen and they spring back to the touch.
Step 4: Remove from the oven and leave on the baking tray for a couple of minutes and then transfer the cases to a wire rack to fully cool.
Step 5: Once fully cool, make the buttercream by beating together all of the ingredients until you have a smooth, pale yellow buttercream.
Step 6: Pipe or spread the buttercream over the cakes and add any extra decorations you desire.