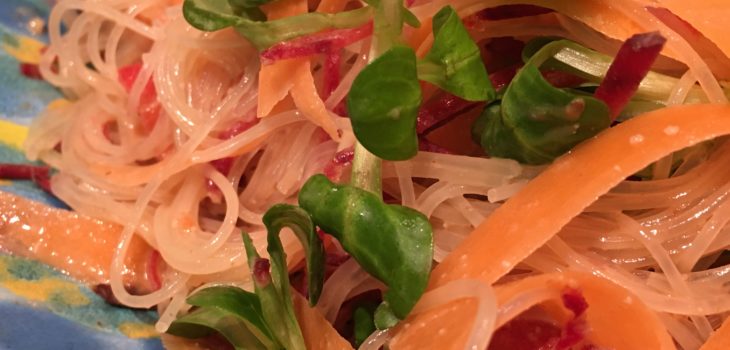 Serves 2
Noodles, check. Peanuts, check. Chilli, check. Vegetables, check. What more could you want? Meat or fish? Simply serve some on the side with this versatile dish.
This salad is quick to put together and the dressing makes it so delicious, you're sure to go back for seconds. With a few tweaks it can be both gluten-free and/or vegan by using gluten-free soy sauce and leaving out the fish sauce and replacing the honey with caster sugar.
I could happily eat this salad on its own, but we often have it as an accompaniment to some Thai curry-inspired fish cakes (which, luck would have it, are the focus of the next blog!).
For the dressing:
1 heaped tbsp crunchy peanut butter
1 tbsp runny honey (or caster sugar if required)
1 tbsp sweet chilli sauce
2 tbsp light soy sauce (gluten-free if required)
1 tsp fish sauce (optional – leave out for vegan/vegetarian)
Juice of 1 lime
2 drops of sesame oil
For the salad:
100g vermicelli rice noodles (or noodles of your choice)
A variety of salad ingredients, e.g. sliced red pepper, carrot ribbons, cucumber ribbons, sliced spring onion, salad leaves
Fresh herbs e.g. coriander
Step 1: Cook or soak the noodles as per the instructions on the packet. Drain and run cold water through them until they are cool.
Step 2: Combine all of the dressing ingredients in a large bowl. Mix thoroughly.
Step 3: Add the cold noodles and your chosen salad items to the dressing and toss to ensure everything is coated with the dressing.
I've also tried adding some fresh mango as part of the salad, which adds a lovely sweetness, so if you're a fan of fruit in savoury dishes, why not give it a go!