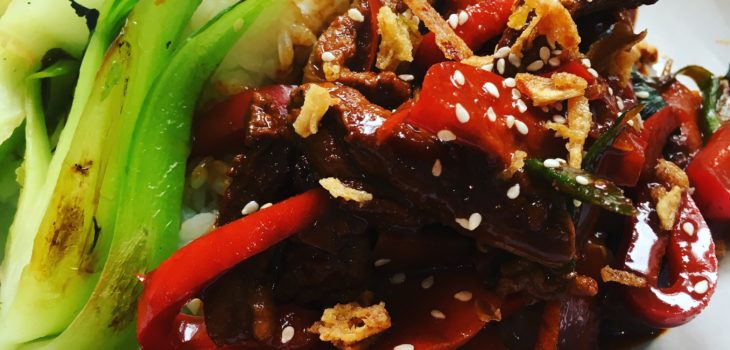 Serves 2-3
I have sung the praises of beef skirt previously in my Chinese Ginger Beef recipe and I use it here again, this time with a Korean vibe. The star of the show today however is the spicy fermented Korean paste, gochujang, which has featured in my Korean Chicken Wings and one of my Asian Pork Belly and the Instant Pot recipes.
I love the stuff and keep a tub of it in my fridge at all times (and a spare in the cupboard!). A friend recently noticed it and asked what it was, musing that the contents of my fridge were intriguing. The thing is, she hadn't looked in my cupboards! I have friends who make a point of rummaging through them whenever they come over, as they know I'll have weird and wonderful things inside them.
If you are in the vicinity of an Asian supermarket or food shop I'd recommend picking up a tub. It'll keep a long while in the fridge but that won't be an issue anyway as you're sure to become addicted to its intense heat and be using it at every opportunity.
Ingredients:
Oil for stir-frying
300g beef skirt steak (or steak of your choice), cut in to thin strips
1 heaped tbsp gochujang
1 1/2 tbsp dark soy sauce
1 1/2 tbsp rice wine vinegar
1 tbsp sugar
A couple of drops of sesame oil
1 carrot, peeled and cut diagonally in to thin pieces
1/2 red pepper, cut into strips
2 spring onion, cut on the diagonal
Step 1: Combine the gochujang, soy sauce, vinegar, sugar and sesame oil in a cup or bowl to make a sauce (don't worry if it's lumpy at this stage, this will sort itself out in the wok).
Step 2: Heat the oil in a wok on a high heat and add the beef; cook for two minutes, stirring all the time.
Step 3: Add the vegetables and stir fry for another minute.
Step 4: Add the sauce and stir for a couple of minutes and then serve.
Serve with rice and pak choi. I also like to sprinkle the dish with a few sesame seeds and some ready-fried crispy onions, but this is by no means obligatory.